---
Looking to improve your musical skills or take your creativity to the next level? I've got you covered!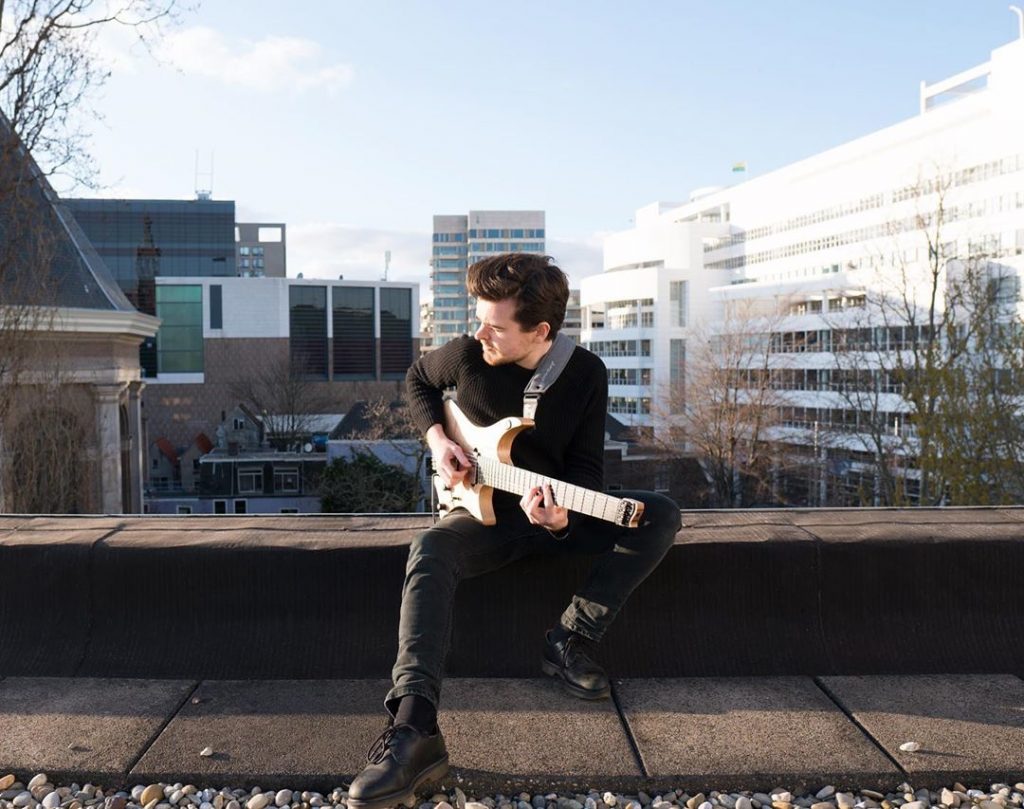 I provide custom music lessons based on your goals and current skills, from beginners to advanced players. We will be working together through video call sessions, or in person in my music studio (in The Hague), and learn anything, from technique and theory to philosophy and composition, in lessons that are 100% tailored to you.
If you've been looking to learn:
🎸 Guitar technique or expand your fretboard knowledge;
🎹 Advanced improvisation or music theory;
🎤 Creative songwriting and music production;
🎥 How to make compelling social media content;
Or just generally want to level up your music, I'd be happy to help you out.
In the process of taking lessons, you'll learn from your favourite songs, and discover creative ways to best express yourself as a musician, so we'll always be sure to focus on whatever is right in the moment, in a way that's engaging and effective.
Lessons are generally 45 minutes long (depending on personal preference and the type of lessons), and can be given in either English, Dutch or French. We'll work on something you want to improve, applied to music you like, and you'll leave with new material to practise until next time we meet up.
For lesson inquiries, feel free to send me a message on social media, email me at hugo.moroux@gmail.com, or fill in the form below.
---
Book an introductory lesson:
---
Testimonials
"After many years of learning guitar, I was reaching some limits. I couldn't do anything other than play covers, and they all sounded a bit rough. Since I've started working with Hugo, it's all been coming together. His real-time adjustments of my technique and his practice routines have me sounding cleaner and faster every week. I now have a growing list of songs I can play well. Perhaps more importantly, he is opening me up to the world of music theory, so I can start improvising and writing my own music. I feel like Hugo is helping me grow from being 'just another guitar guy' to becoming a complete musician."
– David Maldow, BoomSoMuch (USA)
"Hugo's music lessons have really boosted my guitar skills over the last twelve weeks. I'm having a great time learning from him and seeing the improvement in my playing as we go through a mix of music theory, guitar technique, and practicing songs. I'd been teaching myself for a few years, but it has been so helpful to have the support and instruction from someone with Hugo's experience to take things to the next level!"
– Joel Cottrell (Australia)
"From the first lesson, Hugo was able to assess the gaps in my self-taught knowledge and has since continued to construct a lesson plan that both plays to my strengths and strips away my weaknesses. His training has translated to better and faster movement on both the keyboard and the fretboard, allowing for invigoration of and confidence in the compositions that had previously gone stale."
– Maarshu // Iodes Lykos (USA)
"I have had the opportunity to enjoy Hugo's music class for six months. Hugo is a very gentle and patient teacher. During his first few lessons he seems to miraculously pinpoint his student's needs and he tailors the rest of the schedule exactly to meet those needs. He is also very flexible, has an extensive knowledge of musical theory and is able to translate it to practice and understandable lessons. His enthusiasm and dedication made me push my own limits and I look back on a highly educational and enjoyable period."
– Nils Vermeire (The Netherlands)
"As a self-taught guitar player, I was stuck and had a hard time reaching the next level. Hugo's personal approach to each class helped me find what I was missing in my learning journey."
– Ernests Kronbergs (Estonia)
"Picking up the guitar, I realised that having a teacher is necessary. I met Hugo through Twitch and quickly found that he's a great teacher and an easy-going person, so the moment the option for lessons came available, I decided to go for it. I haven't been disappointed for a single moment! Hugo's lessons are accessible, clear and fun, because you're playing songs you like! 100% worth it!"
– Jochem van der Schaaf (The Netherlands)
"I'm glad I could get private music lessons from Hugo Moroux! Through his livestreams on Twitch, he present his musical talent in two ways: his broad knowledge of music theory, and in his skill on his instruments, especially the guitar. It's always fun and easy to understand. The lessons aren't any different. Hugo teaches songs, techniques, music theory and more, based on your experience, and continuously motivates you to keep learning and practicing."
– Yngwie Kädtler (Germany)
"Hugo Moroux is a highly intelligent, very practical musician and an excellent teacher. He has taught me multiple guitar concepts I've struggled to learn over the last 3 years in a single 45-minute session! He provides clear and concise information in a form that is just as easy to grasp as it is to execute, and I highly recommend Hugo as a teacher!"
– Raymond Miller (USA)
"I've been playing guitar informally for many years, but I recently went to Hugo to start taking it more seriously. From our first session, he was able to pinpoint my experience level and tailor his teaching to my needs. Hugo's flexibility and patience has allowed me to develop better technique, a more solid theory foundation, and stronger improvisation skills. We're never locked in to a lesson plan, and frequently refer to older topics to give me more practice. I've learned more in the past few months than I have in years – I recommend Hugo to guitarists at any skill level who are looking to grow as musicians."
– Jonathan Carp (USA)
"As a beginner, I had no idea where to start, but Hugo guided me to a level of guitar playing where I was confident enough to attempt harder songs and new musical concepts. Hugo is a very friendly and patient teacher, who provides a great learning environment for you to improve your musical skills."
– Serdil Kaya (United Kingdom)
"When I first signed up to take lessons, I wasn't too sure about my goals (other than improving). Hugo was able to help come up with realistic goals, that aligned with me in a super fun way."
– Stephen Shugert (USA)
"In 2 months, I went from barely knowing how to make my original compositions stand out, to being able to play multiple scales and use them in interesting ways. I now feel I have an unlimited amount of knowledge of everything on the fretboard of my guitar. If you want to get really good at guitar with a no-nonsense approach, I recommend lessons with Hugo. Even if you're experienced, I'm confident you'll gain new skills and learn things you didn't know you could!"
– Tyler Melton (USA)
"I first came to Hugo with an odd request; I wanted a lesson on how to start teaching lessons, myself! Hugo took the time to cater a lesson specifically for me to get started teaching drum lessons, and it was a fantastic session in which I learned a lot. Not only did Hugo give me some solid advice on how to start spreading the word and reach out to future students, as well as give me tips on how to start building my curriculum, but he also gave me advice on how to be confident in my own skills in order to start teaching, and it has paid off immensely. Thanks Hugo!"
– Ben Young (USA)
"As a non-professional and experimental creator, my learning needs are very unconventional. Hugo has a unique ability to listen to my goals and take chaos and ambiguity and turn it into effective expression. Every time I finish a session with Hugo, I feel empowered to take my creative thoughts to a new level. Hugo is one of the most patient and skilled listeners I have ever known, and this is an immeasurable asset in helping a broad diversity of students make significant progress."
– Jeremiah King (USA)
"Over the past year, I started releasing music and getting into music streaming for the first time. With all the new opportunities have also come lots of challenges, and I'm grateful that Hugo has been a great coach as I figure things out. He has been flexible in structuring our sessions to help with whatever issues are most pressing for me on that day. He has such a broad range of knowledge including musicianship, production, songwriting, streaming, and more. I definitely recommend him to any creator, especially if you are a musician trying to build a following online."
– HeartbloodMusic (Germany)
"Hugo is your guy for music theory lessons, and it's thanks to him that I passed my final exams of the Conservatory of Amsterdam. As a drummer, I've never been a true master of music theory, but Hugo's calm and motivating way of teaching made me understand everything way better than I ever have."
– Jan van Asch (The Netherlands)
---